Check out and save on these new clocks and more great new gifts at Teddy Bear Friends.
Winnie The Pooh Clock
A A Milne's childrens story characters are brought to life in this brilliant nursery clock that simply features the head of the Disney style Pooh Bear in bright yellow.
Eeyore Wall Clock
This fabulous Eeyore clock will make a superb addition to baby's nursery wall.
Sun Moon and Star Bear Baby Musical
A musical moon for baby snuggles – a quality first gift for your beautiful baby.
Sun Moon and Star Teddy Bear
Sun Moon and Star Teddy Bear with mini soother attached has his eyes closed as if sleeping, and wears a red striped nightcap – a great first gift for baby boys and girls.
Winnie The Pooh and Piglet Nursery Set
A charming present that comes gift boxed, this Winnie the Pooh and Piglet Nursery Set is perfect to give as a christening gift, birthday gift or to mark a special occasion.
Pooh and Piglet Money Bank
Winnie the Pooh and Piglet are playing together in this beautiful money bank that uses original drawings together with a modern garden design.
Winnie the Pooh Birth Certificate Holder
If you're looking for a quality birth certificate holder for a new baby boy or baby girl, then look no further!
Peter Rabbit Jack In A Box
Surprise! It's Peter Rabbit. Peter Rabbit will pop up and surprise everyone in this sweet jack in a box toy.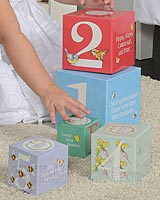 Peter Rabbit Stacking Blocks
The bright colourful stackable blocks encourage children to learn about numbers, colours, letters and shapes. Graduating in size, these beautiful stacking blocks will reach a height of 52cm when stacked.