Hot Lips Harry Singing Valentines Gorilla
We are sorry, this product is discontinued and is no longer available. Please select another item.
Reference: TBF02768
Model: 4043899i
Size: 38cm
Colour: Black
Wild Thing, You Make My Heart Sing!
This plush gorilla soft toy is the most fantastic present to give your loved one.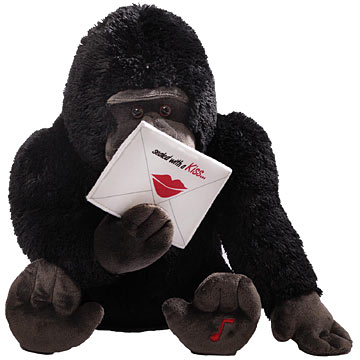 Hot Lips Harry plays The Troggs hit Wild Thing and vibrates. When you place the envelope with your sweetheart's picture in it to his lips, he smooches and his heart starts to beat.
Hot Lips Harry is a happy chappy who likes nothing better than making you smile as much as he does! Press the soft toy gorilla's paw to play the music.
This friendly gorilla has chunky hands and feet and a big cuddly plush tummy. Hot Lips Harry gorilla has rounded two tone beaded eyes, black plush and dark grey hands and feet.
A cool valentines day gift to send your true love and make him or her smile.
Surface washable.